World Maritime News
WMNF 2021/5/13
2021.05.13
Asian container ports most efficient globally: World Bank, IHS Markit Index
Asian container ports have been the most efficient during a prolonged surge of exports that has fed Western economies and challenged their ports, according to a new index launched by the World Bank and IHS Markit on 5 May.
East Asian ports specifically dominate the Container Port Performance Index, which is based on the total port hours per ship call, cross-referenced with workload achieved. Yokohama leads the index, followed by Saudi Arabia's King Abdullah Port and Qingdao.
"Inefficient port operations have a very direct impact on supplies across the country and their populations. During the COVID-19 pandemic, we saw port delays causing shortages of essential goods and higher prices," said Turloch Mooney, an associated director with the maritime and trade division of IHS Markit.
Global box volumes heavily dependent on US demand
Container volumes set a new monthly record in March, with 15.5 million teu being shipped globally, according to the latest available figures from Container Trades Statistics (CTS).
Seen as a whole, the Q1 2021 has shown a global annual average growth of 3.2 %, which is quite well in line with the expected long-term underlying structural growth in global container shipping. The one Far East trade that continues to boom is to North America. 2 million teu seen in the Far East/North America in March is not only 40% up on last year but 38% up on March 2019, according to CTS.
US retailers are upping their forecast for imports in the coming months, suggesting that shippers who are already struggling to secure vessel capacity in Asia will find it even more difficult, and ports on the US West and East coasts could face increasing congestion leading into the summer-fall beak shipping season. Shippers on the Asia/Europe trade who have been struggling with tight space, difficulties sourcing equipment, and sky-high rates should expect no respite through the summer months. They began to see congestion surcharges levied in Week 18 by some carriers on import and export containers flowing through major hub ports in Europe.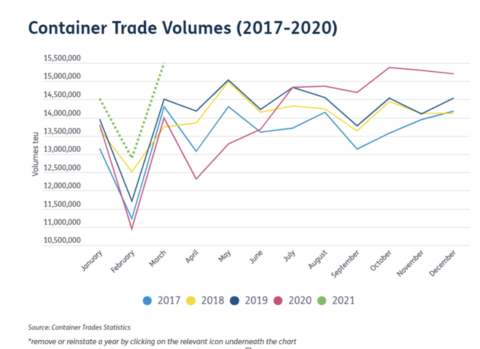 Read more: Lloyd's List | JOC1 | JOC2 | JOC3 
Carriers' record earnings and shipping disruption through Q4
The A.P. Moller-Maersk group's record net profit of U$ 2.7 billion for 2021 Q1 was just short of its full-year net result for 2020. Cosco Shipping Holdings, the parent company of Cosco Shipping Lines and OOCL, recorded a U$ 2.3 billion for 2021 Q1 and Ocean Network Express reported a record net profit of U$ 1.8 billion for 2021 Q1.
A.P. Moller-Maersk expects this exceptional market situation, marked by elevated spot rates, port congestion, and equipment scarcity to last until the end of 2021, with no immediate improvement in ocean reliability.
Read more: JOC1 | JOC2 | JOC3 | Lloyd's List
Maersk's integration strategy begins to pay off
Maersk has had a validation of its container logistics integrator strategy, after posting its "best quarter ever" for its Ocean, Logistics and Services, and Terminal divisions. Maersk bet the farm on selling off non-core assets and focusing on container logistics. The gamble appears to have worked, with the company's ocean customers voting with their wallets by taking up its logistics services. Maersk chief executive Søren Skou said "We have now built a Maersk logistics business with a revenue run rate above U$ 8 billion and EBITDA margins of 10%."
The strong organic growth in logistics has been driven by cross-selling to Ocean customers and Maersk is now measuring the commercial synergies between Ocean and Logistics, using the revenue growth in Logistic from its top 200 Ocean customers. 
Read more: Lloyd's List | JOC
Shipowners rank LNG as top fuel in energy transition 
A majority of shipowners surveyed during an ABS webinar viewed LNG as holding the most potential as a fuel for decarbonizing international shipping. This signals another outright rejection of the World Bank's call for an investment halt on LNG as marine fuel. Despite concerns over methane slip from the maritime industry's use of LNG, by emissions profile, the gas still outperforms methanol and ammonia produced using fossil fuels, a study by class society ABS. The marine use of liquefied natural gas can lead to a net emission reduction even after factoring in methane slip risk, according to a senior Total executive.
China is not likely to align with World Bank's call either by rolling back its LNG bunkering ambitions, which are seen as key to slashing emissions in three major bodies of water: the Yangtze River, Pearl River and Bohai Bay. Shanghai, Shenzhen and Zhoushan have also staked claims as LNG bunkering ports for ships calling at China when serving international trade. Dutch bunkering player Titan LNG is pressing on with its newbuilding plan in defiance of the World Bank's call to dial back marine LNG investments.
Read more: Lloyd's List1 | Lloyd's List2 | titan-lng | Lloyd's List3 | Lloyd's List4 | Lloyd's List5
Industry groups push back reform of U$ 5 billion green fund
Industry groups are holding firm on their support for a U$ 2 per ton of fuel levy on ships, despite demands from developing nations to scrap the plan. Nine industry associations, including BIMCO, the International Chamber of Shipping and the World Shipping Council, have defended the proposal for the creation of a decarbonization research and development fund that they expect would collect U$ 500 million from the global fleet each year.
China, India and Brazil are among developing nations telling the industry should find a different way to collect the money and make sure that developed countries take the lead in that effort and contribute according to broader climate change policy obligations.
Environmental groups have called on the industry to withdraw its proposal and instead focus on supporting the adoption of market-based measures, such as carbon tax, which they believe are more urgent than an R&D fund.
Read more: Lloyd's List1 | Lloyd's List2 | Lloyd's List3
Data utility aspiration for liner shipping
The grand vision for GSBN is to become a sustainable "data utility platform", says its chief executive Bertrand Chen. The real product of GSBN as a platform is not the applications, which are developed by the users themselves. What the platform aims to produce is an infrastructure, whereby data can be exchanged in a secured, efficient and standardized way.
On TradeLens, it was only possible to provide data, which the platform then sells to the customers, said Hapag-Lloyd enterprise architecture director Uwe Rieksmeier. 
On the other hand, GSBN says it has been set up on a not-for-profit basis. While it will still charge users for its services to cover the operation costs, any surplus will be redeployed for research and development purpose.
Read more: Lloyd's List | JOC
Autonomous shipping, COVID-19 impact, security and fuel safety in spotlight
The foundation for the future development of a regulatory framework for Maritime Autonomous Surface Ships (MASS) are laid down at the 103rd session of IMO's Maritime Safety Committee (MSC), held in remote session from 5 to 14 May. MSC 103 is also exploring the impact of the COVID-19 pandemic on shipping and seafarers, maritime security including cyber security, armed robbery and fuel safety as well as how to address the problem of containers lost at sea.
Read more: IMO