World Maritime News
WMNF 2021/4/15
2021.04.15
Asia-US trade surge pulls down North American port productivity
For North America (the US and Western Canada), current volume has consistently been running above the prior years throughout the last six months. It is worthy to note that containers imported from Asia since October have generally been declining. The port was running short-handed because of the pandemic and the port's capacity was effectively reduced.
Once a port gets behind, it becomes exponentially harder to catch up. Now, even as fully or partially vaccinated workers are helping to return dockworkers to full strength, productivity is still dropping owing to lack of space, chassis and railcars, etc. Velocity, once lost, is hard to regain. Vancouver's story is much like Los Angeles and Long Beach's.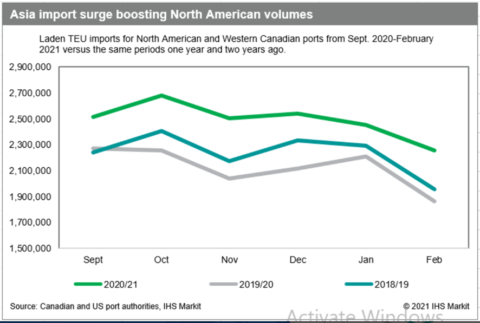 Read more: JOC
US names Dan Maffei as chairman of FMC
US president Joe Biden has appointed Daniel B. Maffei as the new chairman of the Federal Maritime Commission. Dan Maffei's appointment comes just days ahead of the president's planned unveiling of proposed legislation that would fund a major program of infrastructure development in the US, estimated at up to U$ 4 trillion.
Read more: FMC | Lloyd's List
Suez blockage
"Ever Given" (Flag Panama Built 2018 Grt 219,079 teu 20,124 Loa 399.9m Breadth 58.8m) blocked the Suez Canal from 24 March to 29 March. The Suez Canal Authority told 5 April it had cleared out 422 vessels that had been at anchorage since the Canal's 29 March reopening and that Suez traffic has returned to normal.
The full cause of the incident would not be known until the investigation was completed. Disasters at sea usually feature multiple causes. The same appears to be the case for "Ever Given", but experts think human factors and the size of the ship are unlikely to be major elements.
The fallout on container line schedules and equipment is set to last up to two months.
Hapag-Lloyd chief executive Rolf Habben Jansen told a press conference "The Suez situation came on top of already strained supply chains. Equipment availability is expected to remain tight for the next six to eight weeks due to containers being stuck on ships outside ports and from extended dwell and transit times on the land-side, which has been further exacerbated by the Suez incident. Productivity at some of the ports and on the land side is still impacted by the Covid-19-related labor shortages and other restrictions. We are targeting to return to normalcy for the end of the second quarter or early third quarter."
But with little sign of demand diminishing, there was a risk that congestion could continue through into the peak season.
Read more: JOC | Lloyd's List1 | Lloyd's List2 | Japan P&I club | Lloyd's List3 | Lloyd's List4 | Lloyd's List5 | Lloyd's List6
Suez disruption shows resilience of ocean transportation network
One of misconceptions caused by the Suez Canal blockage is that this has shown the fragility of the global ocean transport network. Nothing could be further from the truth. If anything, it is showing the resilience and robustness of the transportation system. Within 72 hours, carriers began to divert vessels to the route via Cape of Good Hope is perfectly viable.
A strategy finding a balance between cost, a lean supply chain, and a resilient supply chain is considered good. Cutting down on buffers in the supply chain helps company reduce logistics costs, but the leaner the supply chain is made, the less you are able to handle external disruptions. This is all down to risk management. Lower your costs by having a very lean supply chain and you will benefit if everything rums smoothly. Have a resilient supply chain and you will benefit when disruptive events happen. This is what is unfolding right now.
Just-in-time lean supply chain will in the coming months continue to be disadvantageous strategy versus competitors who have focused more on resilience as a logistics strategy, and not simply assumed that access to transportation will always, without fail, be plentiful and cheap.
Read more: JOC
Cosco sees long-term box shipping contract as strategic move
Cosco Shipping Holdings is making "better-than-expected" progress on transpacific contract negotiations as pandemic-led disruption has prompted shippers to demand long-term commitment. It had signed long-term contracts of about three years with several Chinese major producers of household appliances, including Midea, Haier and TCL.
Cosco Shipping Holdings, the Shanghai and Hong Kong listed containership and port unit of state conglomerate China Cosco Shipping Corp, reported a 47% increase in net profit to U$ 1.5 billion for 2020 amid a boom in freight markets during the second half.
Read more: JOC | Lloyd's List
Maersk's 4PL play could further rile forwarder partners
A new managed transportation services (MTS) product from Maersk targeting large shippers that oversee complex global supply chains could further increase tension with its forwarder customers as Maersk continues its push to become an end-to-end integrator.
NeoNav, which launched in late 2020 and has already reeled in three customers, is aimed at Fortune 500 companies that have struggled to connect demand, inventory, and in-transit cargo data sets. Martin Home, head of lead logistics at Maersk said that the product is a competitor to traditional fourth party logistics providers (4PL) or third-party logistics (3PL) with a 4PL offering. 4PL typically act as neutral service providers for shippers that sit atop all their systems, data and relationships with asset-based providers and outsourced logistics partners.
Read more: JOC
Lifecycle emissions take center stage at IMO
Regulators are under pressure to agree on how to measure the lifecycle emissions of shipping fuels, in an effort to ensure shipping's decarbonization pursuit does not undermine similar efforts outside the sector. In separate submissions to the IMO, major economies and shipping nations are seeking guidelines for assessing the lifecycle greenhouse gas emissions of shipping fuels. One proposal is being made by Australia, Japan, Norway, South Korea and the International Chamber of Shipping. The other is sponsored by all 27 European Union member states and the European Commission. Both submissions recognize that the IMO cannot regulate any emissions outside of those caused by the ship, which are known as tank-to-wake or tank-to-propeller emissions. However, IMO guidelines are often adopted as the industry standard by technical experts who advise shipping companies on important decisions, like fuel use.
Read more: Lloyd's List
Green ammonia will be cost effective by 2050 – DNV
Green ammonia is gaining traction as a next generation fuel within the shipping community because it is deemed to be another cost-effective alternative in efforts to comply with tightening regulations over greenhouse gas, although a total of U$ 1.9 trillion needs to be invested by 2050. Data suggest the price of green ammonia could halve by 2050 to levels beating even those of marine gas oil. One factor likely to play a part is the lower cost of deriving hydrogen from electrolysis, drawing on renewable power, according to DNV.
MAN Energy Solutions said ammonia would have a 30% share of the maritime fuel market by2050 and will develop a dual-fuel, medium speed, four stroke engines to run on diesel and ammonia as part of an initiative with the German government. Man has already announced it would deliver ammonia-fueled two-stroke engines for bigger deep-sea ships, by 2024.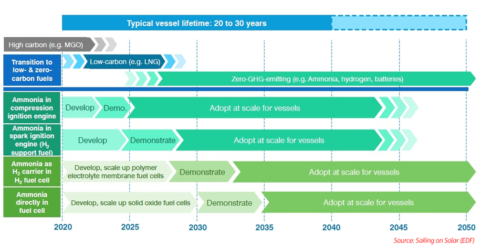 Read more: Lloyd's List1 | Lloyd's List2 | MAN Energy solutions | Lloyd's List2
CMA CGM close to ordering 12 dual-fuel neo-panamaxes and backs biomethane
CMA CGM is believed to be close to finalizing orders for 12 dual-fuel neo-panamax container ships. It is still weighing options for the size of the vessels that can be fueled by LNG, between 13,000 and 15,000 TEU – vessels of the smaller size being more flexible for port calls. Should the orders be finalized on schedule, delivery time is estimated for the second half of 2023.  
CMA CGM is also backing biomethane as part of its commitment to become a carbon-neutral company by 2050. It will be directly investing in the production of biomethane and offering customers the option to use biomethane.
Read more: Lloyd's List1 | Lloyd's List2
DCSA members getting on board with track-and-trace standard
Five of the nine container line members of the Digital Container Shipping Association (DCSA) say they have adopted, or soon will adopt, the association's track-and-trace standards, a key step toward building visibility interoperability across ocean shipments.
The traction makes clear the need for ocean carriers to make it easier for shippers and forwarders to track containerized cargo across the range of service providers they use, no matter the visibility platform they choose.
Of DCSA's nine members, CMA CGM, Evergreen, Mediterranean Shipping Co, Ocean Network Express and Yang Ming said they have already implemented the standards or soon will do so. Other members include HMM, Hapag-Lloyd, Maersk and Zim.
Read more: JOC