World Maritime News
WMNF 2021/3/18
2021.03.18
Biden's U$ 1.9trn stimulus package will boost trade to US despite sky-high rates
US imports from Asia in February jumped 27.3 percent year over year to register a seventh consecutive month of double-digit growth with no signs of slowing. The U$ 1.9 trillion stimulus package which includes one-time direct payments of up to U$ 1400 per person and jobless aid of U$ 300 a week will deliver another shot in the arm for consumer demand.
Global Port Tracker, published monthly by the National Retail Federation and Hackett Associates, projects that containerized imports will increase by double digits each month through June year over year. The current supply chains disruptions are caused by a larger-than-usual boom in demand in goods combined with the pandemic reducing efficiency at some ports. There is no sign from the operational side of the container shipping industry that bottleneck effects will be resolved in the short term.
Read more: JOC1 | JOC2 | Lloyd's List1 | JOC3 | Lloyd's List2 | Lloyd's List3
Port of Los Angeles honored with infrastructure 'Gamechanger' award for Port Optimizer
Every four years the American Society of Civil Engineers (ASCE) recognize infrastructure projects around the U.S. that it considers to be Gamechanger – innovative projects and that move infrastructure modernization forward. Among this year's ASCE Gamechanger award recipients is the Port of Los Angeles for its Port Optimizer. The Port Optimizer is a cloud-based information portal that digitizes maritime shipping data for cargo owners and supply chain stakeholders through a secure single access point.
Read more: Port of LA
Liner shipping leaders look to mutual commitments in contracts
As the annual transpacific contracting season gets under way, container lines are looking for more stability and commitment from customers in an effort to get better insight into demand and avoid the inability in the market witnessed over the past several months. 
Speaking at the Journal of Commerce's TPM conference, Hapag-Lloyd Rolf Habben Jansen said 'Containers that are not supplied or not shipped will require compensation to be paid by either side." Book-no-shows have been at 30%-40%, which makes it difficult to plan, especially when the market is very hectic, he added.
Read more: Lloyd's List
CMA CGM cuts debt, posts U$ 1.75bn 2020 profit
CMA CGM shrugged off a drop in container volume in 2020 to report a U$ 1.75 billion net profit and was able to repay loans and shave U$ 900 million off, with the net debt at 31 December 2020 totaling U$ 16.89 million. It said its CEVA Logistics business crew during the year, supported by the airfreight business and by warehousing and related services.
Favorable trends in the logistics sector should continue in 2021, CMA CGM said.
Read more: CMA CGM | JOC | Lloyd's List
Shipping's 'big three' account for almost 80% of CO2 emissions
The global shipping fleet emitted 614 million tons of carbon dioxide in 2019, according to the first emissions-collection database compiled by the IMO. A report on the IMO Data Collection System, as it is officially known, seen by Lloyd's List, shows Containerships, Bulkers and Tankers accounted for 78.6 percent of the total CO2 emitted by international shipping. New report shows significant improvement in carbon intensity compared with 2008, but comparisons may not be accurate owing to the different nature of the datasets.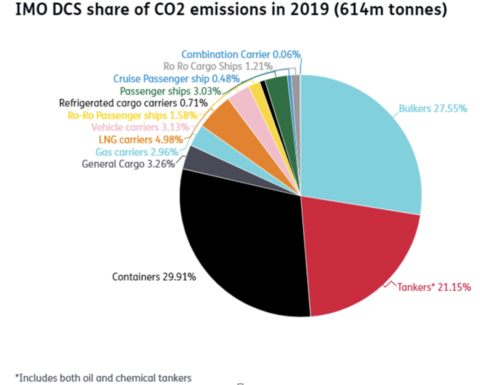 Read more: Lloyd's List
Greece, Japan and others back industry's U$ 5bn R&D fund proposal
Greece, Japan, Liberia, Singapore, Nigeria, Georgia, Switzerland and nine other leading industry associations urge the IMO to set up the fund to help develop a global research and development for maritime decarbonization. Industry associations proposed in late 2019 that the IMO create an independently-run R&D fund based on a mandatory contribution from shipping companies equivalent to U$ 2 per ton of fuel oil their ships consume. Around U$ 500 million each year would last 10 and 15 years and be focused strictly on enabling R&D for shipping.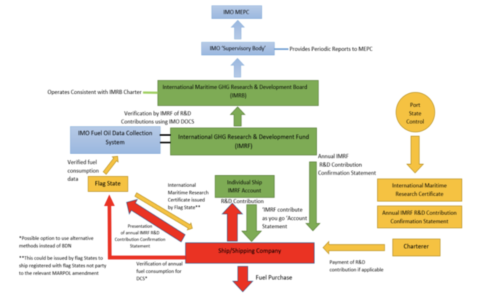 Read more: Lloyd's List1 | Lloyd's List2 | Green Car Congress
Marshall Islands and Solomon Islands demand U$ 100 tax on shipping emissions
The IMO is facing a call to impose a U$ 100 levy on greenhouse gas emissions from ships without exemptions by 2025, in the first ever concrete proposal for an emissions levy on shipping. The Marshall Islands and the Solomon Islands have made the proposal to the IMO's Marine Environment Protection Committee in June. The two countries suggest that at least 51% of the annual revenues from this levy go toward the climate change mitigation and adaptation efforts, 33% for decarbonization R&D and 16 % for administration of levy collection and disbursement.
Read more:Lloyd's List
Emissions levy proposal is major turning point for shipping
The struggle to reduce shipping's greenhouse gas emissions has taken an irreversible turn.
The new call for a U$ 100 levy per ton of CO2 equivalent that every ship emits will change the trajectory of shipping's decarbonization, regardless of whether is successful or not. Industry groups are welcoming the call for a market-based measure to be imposed on shipping, but are not committing to whether they support the proposal for a U$ 100 levy per ton of CO2 equivalent without exemption by 2025. During the MEPC meeting November 2020, major countries including China and Russia declined to even open talks on market-based measures.
Read more: Lloyd's List
Double-digit fuel savings claimed from analysis of coating performance
Achieving sustainability goals in maritime will involve a range of technology and operational solutions and they are making a material difference to shipping's environmental footprint.
While some technologies grab the headlines, others are not given the credit they deserve even though they are already making a material difference to shipping's environmental footprint.
Vessel paints and coatings fall into the second of these categories. Hempel, the Danish manufacturer, claims its high-performance coating Hempaguard X7 has cut fuel consumption by 7.6 million tons and CO2 emissions by 23.5 million tons.
Read more: Lloyd's List
Keppel, Maersk join ammonia bunker supply chain study
Maersk and Keppel Offshore and Marine are backing a second ammonia project that has been signed within weeks from the first one announced out of Singapore. They are part of a six- member group that is embarking on a feasibility study to commercialize ship-to-ship bunkering of green ammonia at Singapore. A statement said the study aimed to develop a cost-effective green ammonia supply chain, which include the design of ammonia bunkering vessels and related infrastructure.
Read more: JOC | Lloyd's List
Oil companies expand LNG marine fuel availability
Leading oil companies are increasing the amount of LNG available for use as a marine fuel in Singapore and Mediterranean. Singapore has granted a bunkering license to France's Total to begin operations from January 2022, while Repsol is now supplying LNG from the Spanish port of Cartagena. There are 63 LNG bunkering tankers around the world, of which 29 are based in Europe, with 17 in Asia, according to DNV. Repsol is adapting further two regasification terminals at Bilbao and Santander. Another will begin at Marseille in 2022, while the Gas Agility began operation at the port of Rotterdam November 2020. 
BHP maritime and supply chain vice president Rashpal Bhatti said LNG would form part of a mix of fuels "for a long time to come". LNG is "not a transitional fuel" as the industry seeks to reduce emissions, he added.
Read more: Lloyd's List1 | Lloyd's List2
Awake.AI Awarded by Frost & Sullivan for Redefining Maritime Logistics
Awake.AI's multimodal platform  enables real-time collaboration, planning and optimisation for sea-port-land actors
Based on its recent analysis of the European maritime logistics market, Frost & Sullivan recognizes Awake.AI with the 2021 European Entrepreneurial Company of the Year Award. Its open and collaborative digital platform enhances maritime logistics by integrating stakeholders operating in sea, port, and land logistics. It funnels the discrete data from their operations, drives shared and transparent communications, and offers accurate predictions for informed decision-making.  In 2020, Awake.AI launched Smart Port as a Service™ to address maritime logistics operation supply chain challenges. These include operational delays due to resource and capacity management inefficiencies and supply chain congestion. The platform enables open information-sharing among collaborating partners and provides accurate predictions to save users time and cost. Its virtual infrastructure brings distributed and siloed port logistics operations together in a neutral AI-driven open platform.
Read more: Awake.AI