World Maritime News
WMNF 2021/3/4
2021.03.04
Panama Canal raises slot booking prices
Increasing demand for Panama Canal transits has encouraged the Panama Canal Authority (ACP) to raise its reservation and service fees. From 15 April, booking reservation slots will rise from between U$ 10,500 and U$ 50,000 for the panamax locks and U$ 70,000-U$ 85,000 for the largest vessels. The transit reservation system is an optional service offered by the ACP
That gives customers the ability to transit on a specific date through the payment of an additional fee, guaranteeing a transit.
Read more: Lloyd's List
Another Maersk boxship losses containers in rough seas
Maersk Eindhoven (flag Denmark, built 2010, 13,000 teu, grt 141,716) experienced a loss of engine propulsion for three to four minutes in "harsh" weather near Japan on 17 February, en route from Xiamen to Los Angeles. The loss of maneuverability resulted in severe rolling with 260 containers lost overboard and 65 containers damaged on board. This is the second Maersk vessel in less than a month to lose boxes. Latest loss of containers at sea in rough weather from Maersk Essen and One Apus raises the question among shippers and carriers as to whether large vessels might have structural problems involving container stowage.
Carriers representatives have noted that each incident is slightly different. Mishaps could involve the vessel rolling in rough seas, a loss of engine pressure, or problems with how the containers are lashed on the deck.
Read more: JOC | Lloyd's List
DFDS and Maersk back carbon-neutral ammonia plant
Maersk has signed on to a project that will build Europe's largest production of carbon dioxide (CO2) free green ammonia, a carbon-neutral alternative the carrier has identified as marine fuel of the future. The project is being led by Copenhagen Infrastructure Partners, the world's largest dedicated fund manager within greenfield renewable energy infrastructure investments and joined by agriculture sector. Maersk and Danish logistics company DFDS represent the shipping sector, while Arla, Danish Crown and DLG represent a significant part of the agricultural value chain. The production facility will be located in the town of Esbjerg on the west coast of Denmark, where it will convert surplus power from offshore wind turbines to green ammonia in a process known as Power-to-X facility.
Read more: JOC | Lloyd's List
Maersk to deploy first carbon neutral container ship by 2023
Maersk said it will deploy its first carbon neutral container ship by 2023, driven by growing customer demand for sustainable services to get the vessel on the water seven years ahead of schedule. The 2,000 TEU methanol-fueled feeder vessel will be deployed on one of Maersk's inter-regional networks after evolving technology allowed the carrier to fast track the deployment of the ship. Being able to produce sustainable fuel at scale as well as to build its supply chain is an enormous challenge but the industry is intensely focused on developing alternative fuels. In charting a course to decarbonization, Maersk has identified three primary candidates, methanol (e-methane and bio methanol), alcohol-lignin blends, and ammonia.
Maersk will explore carbon offsets as one of the potential tools to get it to net zero carbon dioxide emissions by 2050. Maersk's carbon offsets will be mainly limited to so-called scope 2 and 3 emissions which refer to indirect emissions from electricity purchased and used as well as any other indirect emissions occurring from sources that they do now own or control.
Read more: MAERSK | JOC | Lloyd's List1 | Lloyd's List2
Wallenius Wilhelmsen plans wind-powered ro-ro ships
Norway's car carrier operator Wallenius Wilhelmsen (WW) says it will design the world's first wind-powered pure car and truck carrier, claiming it could cut emissions by up to 90 percent.
WW hopes its design for Orcelle Wind will be ready to contract with shipyard by mid-2022 and ready for sail by 2025. The planned ship would be 220 meters long and carry 7,000 cars as well as heavy machinery and breakbulk. It could reach 10-12 knots under sail and higher speeds with supplement power. German bulker operator Oldendorff Carriers is testing a wind propulsion system and British tech company WindShip Technology recently announced a zero-emission sail design with DNV.MOL has started construction of a wind powered coal carrier (99,000 dwt) aiming to start operation in 2022.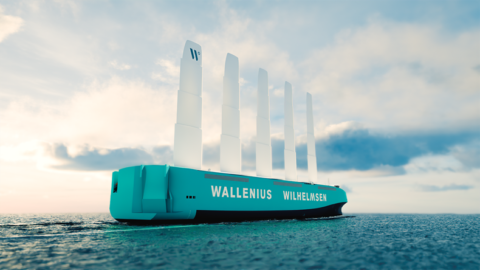 Read more: Wallenius Wilhelmsen | windship | MOL | JOC | Lloyd's List
CMA CGM expands future fuel coalition
The Coalition for the Energy of the Future was initiated in 2019 by CMA CGM and formally launched in 2020. CMA CGM and other 10 members (e.g., AWS, Carrefour, Total, Wärstliä) have now been joined by PSA International, Bureau Veritas and Airbus. It aims to accelerate the development of future energies and technologies to sustain new green mobility models and reduce the impact of transport and logistics on climate change. 14 companies would begin work on developing solutions including green hydrogen, biofuel, carbon-neutral LNG, green electricity, zero-emission vehicles and ships. Other projects include a digital calculator for emissions throughout the supply chain and intermodal green hubs.
Read more: Lloyd's List | JOC
CMA CGM to deploy first LNG ships on transpacific
CMA CGM will introduce the first string of LNG-fueled containership to call in the US later this year when it deploys six 15,000teu vessels on the transpacific trade. All the ships are expected operational by the end of 2022. LNG has been criticized as a potential sustainable fuel, given that vessels running on the LNG reduce carbon emissions by 20 percent compared with traditional bunkers and the unintentional release of methane from LNG-fueled engines could actually increase the effects of emissions. But carriers need to address growing demands from customers for immediate solutions even if they fall well short of 100 percent decarbonization. Those customers, in turn, are under pressure from their own customers as well as investors to curb Scope 3 emissions, which include emissions by vendors including transport providers.
Read more: JOC | Lloyd's List
DNV shines light on the dark side of innovation
DNV (until end Feb 2021 DNV GL) has identified an "emerging safety gap" related to future technologies. "To ensure the safe and timely transformation towards a digitally-smart and carbon-neutral future, the industry urgently needs to close the looming safety gap by addressing the safety-related risks", the classification society said in a white paper. There is a dark side to innovation, and a new risk picture is emerging related to cyber security, automation, new fuels and digital technologies.
Read more: Lloyd's List | DNV
Transparency vital for charterers' low-carbon shift
Transparency is becoming increasingly integral for shipping to serve environmental, social and governance objectives. Vessel performance and efficiency are key focal points, with transparency on emissions data more important than ever before, given the low carbon goals set by regulators. Major charterers are leading the charge, but there is a long way to go in changing overall sentiment. The International Chamber of Shipping believes a new emissions reporting initiative by major charterers has "interesting ideas" but should be developed further based on rules agreed by governments at the IMO.
Owners have historically been disinclined to share information with counterparts, due in part to issues of mistrust. However, technology has a role to play in bringing owners and charterers together. Domestic and international value chain participants should provide improved transparency and advance the global transition to lower-carbon future.
Read more: Lloyd's List
Virginia port data becoming critical to supply chain management
CEO of the Virginia Port Authority Stephen Edwards said the port feeds performance and operational data directly to its largest customers, as well as third-party logistics providers. Likewise, Virginia's shippers provide the port with information on their warehousing strategies that the port can use to allocate equipment and other resources. Its truck appointment system provides truckers with a great visibility, which resulted in about a 30 percent reduction in truck turn times and eliminated queuing.
Ports are the most likely locus for data sharing operations needed to overcome obstacles in containerized supply chains. Edwards sees a "complex network" of different organizations and stakeholders moving towards a point where a "collective infrastructure" is coming into place and it is the port's role to centralize that movement.
Read more: JOC | Lloyd's List
Awake.AI collaborates with ESA to develop a marketplace for sustainable and intelligent maritime logistics
A new IAPH Associate member, the Finnish start-up Awake.AI is accelerating its platform development by introducing a 'marketplace' solution to orchestrate complex shipping and port transactions. In November 2020, the European Space Agency (ESA) awarded Awake.AI funding to conduct the project Commander which will develop and pilot the Awake platform and introduce 'Awake marketplace'.  
Awake.AI's platform is currently used for smart ports and shipping operations by multiple actors such as port authorities and operators, cargo owners and ship operators around the globe. Awake marketplace is the new solution built on top of the existing platform offering new types of communications, ETA improvement, real-time asset tracking and identification and other advanced services to all actors.  With the help of networked organizations and SaaS (Software as a Service) workflow tools, Awake marketplace will facilitate the organization of complex shipping and port services.  For more details, visit the company's website